10 Insanely Creative Nursery Class Decorations
Nursery Class Decoration Ideas: Children are drawn to beautiful things. They enjoy vibrant and imaginative arts, which is why elementary schools or classes are so bright and colorful. Different arts, shapes, and new items make the class more interesting than a typical boring class. Such sessions also encourage children to attend school and provide them with new information.
The art of class decorating varies depending on the occasion, for example, we make diyas and candles for Diwali, Santa and snow for Christmas, and so on. This will motivate children to create similar works of art and beautify their classrooms. Teachers are continuously creating artwork for their kids, but their creativity can be limited at times. So, here are some amazing class decoration ideas that everyone should be aware of.
Holiday Decorations
As I previously stated, decorations can vary depending on the season or holiday, thus we have Christmas and winter decorations with snowmen, snowflakes, Santa Claus, and a Christmas tree. All of these are fashioned out of paper that has been cut into various shapes and colored. We also have some trees that change with the seasons. Such suggestions will assist children in learning about seasons and the impact of changing weather on trees. The moon and star clock is also appealing.
Various Seasons
Here's a piece of decor that depicts the four seasons: spring, summer, autumn, and winter. All trees display distinct seasons and their effects, such as flowers in the spring, snow in the winter, and so on. This strategy is a great way for kids to learn about the seasons while also making the classroom seem nice. The class can be divided into four groups based on the seasons, which will assist teachers in assigning them to appropriate activities.
Stunning Art
Take a look at this work of art, which appears to be quite magnificent and spectacular. It's a manner of defining nature that's all its own. Showing how trees change their behavior as the seasons change. With the assistance of their teachers, students can easily create such art and make their classes more appealing. Children in the age range of 5 to 10 years old are the best candidates.
Day & Night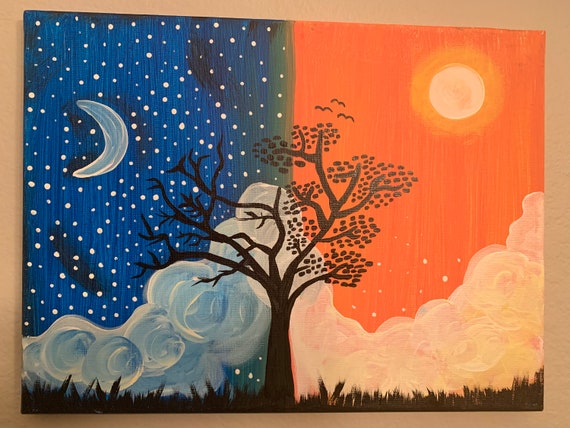 Clouds, the sun, stars, and the moon, among other things, make for a magnificent class decoration. On one side, we have day and night, and on the other, we have the Earth. This will teach children that during the day, the sky is full of clouds with the sun, which provides us with light, and at night, the sky is full of stars with the moon, which provides us with light. This also means that it will be daytime on half of the world and nightfall on the other half. These four trees also convey information about the earth's seasonal changes.
Purple Blossoms Room Decor
This is a lovely and magical room decor idea. The bedsheets and curtains complement the wall art well. The blossoms are blown away by the wind.
DIY colourful wall decoration
One approach to make your area stand out is to add a colorful wall item, which many people refer to as a focal point. Hangings are anything you hang on your wall that hangs down creatively while taking up little space. People choose diverse designs for different rooms in their homes, such as parlors, rooms, homework environments, and event halls.
These wall hangings, if picked wisely, can add a touch of elegance to your space. These top DIY artwork ideas, which range in style, are great for helping you improve the aesthetic of your home. These wall hangings have the ability to change even the most simple of homes. In any case, each new decorative piece is a unique method to bring life to the home while maintaining that distinctive flair, regardless of the type of design or color you choose.
Scenery Wall Decor
This wall décor is both enchanting and entertaining. It will be a hit with your child! As wall art, create a complete scene on your wall. Also, coordinate the bed sheets and side table with the wall art. It has a lovely appearance and is quite inventive.
Wall Hanging Twigs
This wall hanging is both natural and lovely. It's incredibly easy to make. Color the twigs and put them on your wall, door, or window. It's a work of art inspired by nature. It'll look fantastic as a piece of wall art.
Daisy Wall Art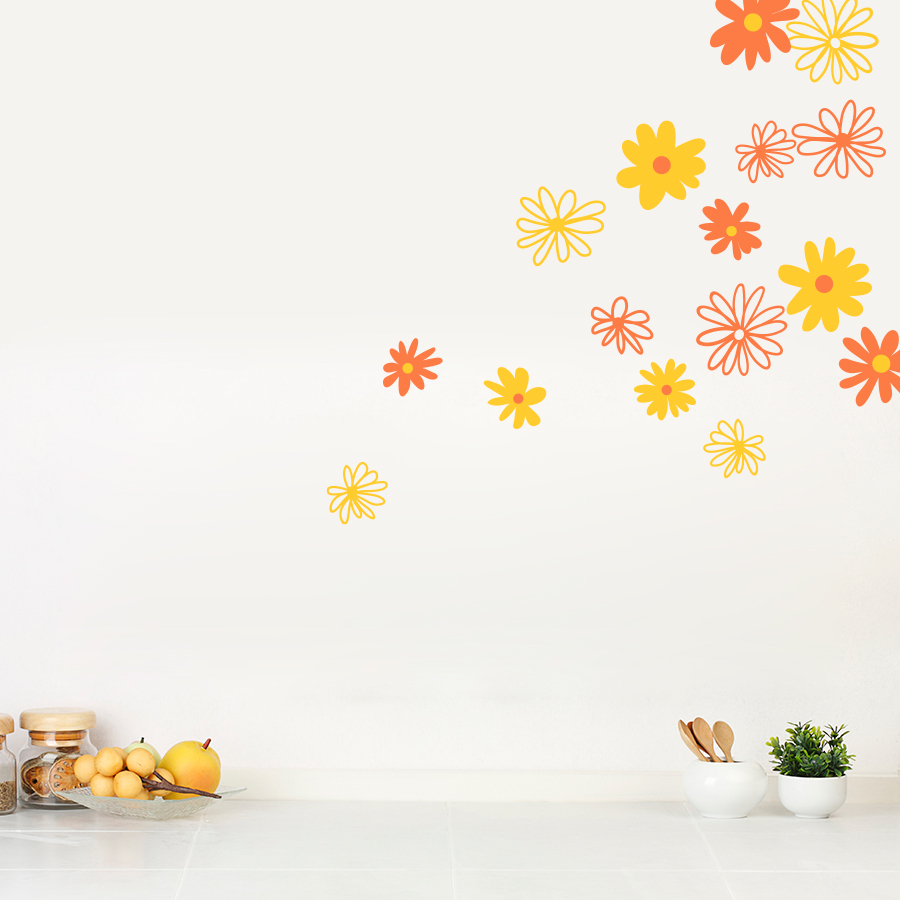 Make these simple flowers to adorn your wall. It's also a fantastic party decoration. Give the daisies a variety of hues and coordinate them with the rest of the room's decor. Allow the wall decor and furniture to complement one other in hue.
Wall art is an excellent method to enliven your house, room, or classroom. These concepts are also relatively simple to implement. Bring your personality's energy to life on your walls. These easy-to-make wall decor ideas are a lot of fun. It will look fantastic on your home's walls.
Read similar posts for more amazing ideas. Please return to our website! Leave a comment in the space below to let us know what you think.
The Unique Paper Stripe Background
This structure of paper garland is simple to construct and only requires tape and paper. Even in your most sluggish state, you can put together this colorful party decoration. Because it's such a cheap craft, include this bright and easy hills and stars paper garland.
You'll need the following items:
Scissors
Hills in a different structure, stars-colored paper
Tape
To begin, cut the colored paper into long, evenly spaced stripes. To make an ombre hill and stars background, arrange the same-colored papers in color sequence. The garland's final step is to tape the sections together. You can also staple or glue them, depending on your preference.
The rainbow garland is now ready to be hung!